Halloween in London
From to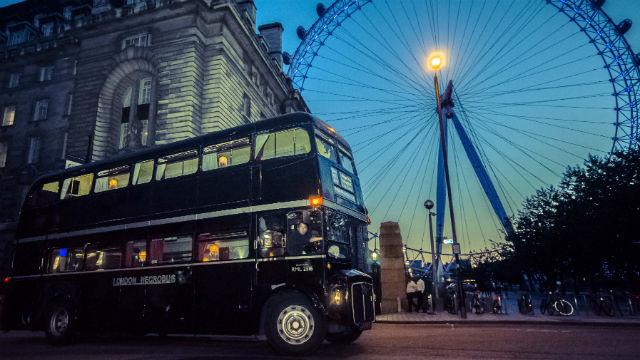 Step inside terrifying dungeons, discover London's gory history, go ghost-hunting and take part in chilling activities at scary attractions and Halloween events in London.
Read More
About
Experience a scarier side to London with some of the spookiest things to do in London for Halloween, on and around 31 October.
Venture into haunted venues, brave bone-chilling attractions, dare to go on special Halloween tours and find tricks and treats with gripping family events. Plan your Halloween in London with this roundup of gory ideas and horrifying activities.
Get a flavour of what you could enjoy in London in previous years, and check back closer to the time for confirmed events during Halloween 2022.
Frightening London attractions
1. Step into the menacing world of the Dark Arts as the Harry Potter film studios are given a Halloween makeover at Warner Bros. Studio Tour London.
2. Delve into the gruesome tales during The London Dungeon's Halloween takeover.
3. Hear tales of torture and imprisonment, and explore the Bloody Tower at Tower of London.
4. Get up close to some of the world's most feared animals in London this Halloween on the Shark Walk at SEA LIFE London aquarium.
5. Climb aboard for a spooky sailing on the London Eye river cruise.
6. Descend into the horrifyingly haunted London Bridge Experience and London Tombs.
7. Run for your life through the Covenant spaceship in Madame Tussaud's Alien: Escape experience.
8. Blow away the cobwebs with a hair-raising Halloween-themed Thames Rockets speedboat tour, guaranteed to make you scream!
9. Step into one of England's oldest and most notorious prisons Clink Prison Museum if you dare and see its gruesome torture devices.
10. Go on a mind-derailing journey through fear at the scary Fright Nights at Thorpe Park.
11. Discover the unnerving history of 19th-century surgery at the Old Operating Theatre Museum and Herb Garret.
Find more quirky London attractions and unusual museums.
Scary Halloween London tours and ghost hunts
12. Discover the dark secrets and gory history of London with The Ghost Bus Tours.
13. Retrace the infamous murderer's footsteps with Jack the Ripper Ghost Walks.
14. Join a very mortal talk, tour or workshop, including visits to London's most famous cemeteries, during the London Month of the Dead.
Discover more weird and wonderful sights on more London tours.
Halloween kids London ideas for half-term
15. Celebrate the spookiest day of the year at Shrek's Adventure! London.
16. Be enchanted by a magical evening of comedy, illusion and accident-prone magicians at Magic Goes Wrong.
17. Keep an eye out (not literally) for Halloween activities at London's family-friendly museums.
Look out for more Halloween family events during the October school half-term.
Enjoy a night out or Halloween party in London
18. Enjoy a magical musical such as Wicked, or the haunting gothic romance The Phantom of the Opera.
19. Or jump out of your seat as you watch scary scenes in The Woman in Black..
20. Let your hair down at hair-raising Halloween nights in London's top clubs, including Ministry of Sound and Electric Brixton.
Haunted houses and places
21. Listen out for the screaming ghost of Catherine Howard in Hampton Court Palace's Haunted Gallery.
22. Be spooked by sightings of the famed White Lady and other ghostly souls at the Tower of London.
23. Capture a selfie with one of the resident ghosts at Queen's House in Greenwich, known for their presence on the elegant Tulip Stairs.
24. Explore one of the most haunted places in London at Tudor mansion Sutton House and Breaker's Yard and you may encounter the White Lady ghost.
25. Visit one of London's beautiful and eerie cemeteries.
26. Grab a pint in an old haunted London pub, including The Ten Bells, The Grenadier, The Spaniards Inn and The Viaduct Tavern.
27. Discover more of London's spookiest attractions.
Don't just visit for Halloween, there are plenty of events and activities this autumn to add to your bucket list. Check out more events in October and November, or plan for a weekend in London with our top weekend picks.
If you're already in London, download the Visit London app for on-the-go Halloween ideas and family fun.